PHOTOCHROME EXPLORING PHOTOGRAPHY NIGHT 17 OCTOBER 2013 7:30 PM
Subject: "Street and Transit Photography: There Might Be Elephants!"
Presenter: Bob Nelson
The presentation will include in part:
A DEFINITION OF STREET AND TRANSIT PHOTOGRAPHY.
CAMERA GEAR TO BE USED: Cameras: DSLRs, fixed lens and phones; extra batteries and memory cards; flash gun; what gear not to take.
LOCATIONS: On the street; in buses and trains; outside events such as street fairs; shop windows.
SUBJECTS: Sidewalk and street images; architecture; nature; machines, persons, animals and close up details.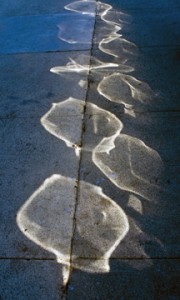 A photo of refracted light with is literally
street or sidewalk photography.
TECHNIQUES: Making candid photos of persons on the street and on public transit; how to approach persons
to ask for posed photos; special techniques when photographing on buses and / or trains.
YOUR RIGHTS AS A PHOTOGRAPHER: Where you may and may not make photos.
The Power Point projected text talking points and photo examples will be narrated by me and should run about an hour. At the end of the informational segment there will be a short slide show of photos of various subjects made on the street and on public transit.The slide show will be followed by a refreshment break after which there will be about a half hour for questions and input from the audience.
I hope you all can attend the meeting on Thursday 17 October 2013, starting about 7:40 +- after ny opening club announcements. And then…. There Might Be Elephants!?
Bob