Photochrome Adventures: Paramount Theater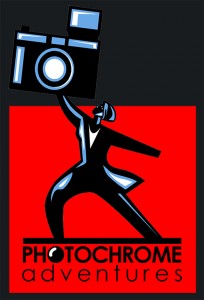 The second PHOTOCHROME ADVENTURES field trip of 2013 is scheduled for Saturday April 20th.  It will be a tour of of the historic Paramount Theater in Oakland.
Meet-up time will be 9 :45am at the Paramount Theater box office on 21st Street off Broadway in downtown Oakland.
The tour begins at 10 am sharp !
The tour is about two hours in duration. The price of admission is $5.00.
Cameras and flash are OK but no tripods are allowed.
After the tour we will meet up at around 12 noon just down the street at the Uptown Cafe & Crepes at 410 21st just off  Broadway in the middle of the block for our show and tell about the shoot.
The Paramount Theater is an amazing work of art and photo ops are everywhere, inside and outside!
Golden Women in the Paramount Lobby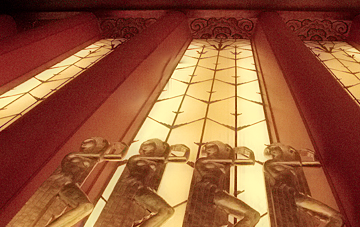 © 2013 Bob Nelson – B P NELSON IMAGES
I did the tour last month and found docents still give presentations at various locations on the tour that last long enough  to allow plenty of time for photography. However our guide made it clear that he did not want persons to straggle.
HERE is the Paramount Theater web site. It has complete information about the theater, contact numbers and directions on how to get to the Paramount Theater from anywhere in the Bay Area.
From San Francisco, BART is an easy way to get there. For example it is about a 16 minute trip on the Pittsburg / Bay Point line from Montgomery Street in San Francisco to 19th Street in Oakland. That station is only a half block from the Paramount.
If you drive, there is a parking lot next to the Paramount. It is $1.00 per 20 minutes. The large city lot across the street as I recall costs $2 per hour.
We look forward to seeing  you all as the curtain goes up on the second PHOTOCHROME ADVENTURES field trip of 2013 at the Paramount Theater in Oakland. Saturday 20 April 2013 at 9:45 am.
Bob Nelson
PHOTOCHROME ADVENTURES Chairperson
bpnelso2@pacbell.net
Home: 415.441.0498  Cell: 415.713.0498