Japanese Tea Garden Field Trip on 03/26/2011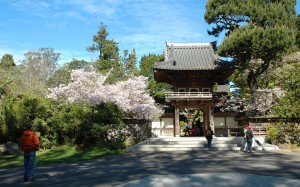 It's finally time to visit the Tea Garden and see what images we can create. Located at Tea Garden Drive and Martin Luther King Jr. Drive in the Golden Gate Park, it offers plenty of subjects to compose interesting photos for our viewing. The Drum Bridge, Pagoda or Chain of Ponds always make great images from any point of view. Lets start photographing at 9:00 AM when it opens. Hopefully we can get plenty of shots before the crowds arrive in their tour buses. There is a small entrance fee of $5 for adults and $3 for seniors. Parking may be found at Stow Lake, or in the underground parking garage at the music concourse.
Lets have coffee at the de Young Museum around 11:15 AM. There is no entrance fee for visiting the cafe.
See you there.
Gary Larsen