Exploring Photography: Nature and Wildlife Photographer Oliver Klink
Photochrome Camera Club of San Francisco presents an "Exploring Photography" program on Thursday May 2, 2013 at 7:30 pm at the Ebenezer Lutheran Church at 678 Portola Drive near Woodside Avenue in San Francisco.
The program, a 45 minute slideshow with stories is entitled "In Pursuit of Excellence" will be presented by world class nature, wildlife and art photographer Oliver Klink.
Oliver Klink explains the show: "There are times in my life when I can see infinity in all directions and times when I can't find the tip of my nose. I'm happy and thankful to see what is beautiful in this world so that I can share it with my photography and make people dream.
The talk is about the process Oliver Klink goes through to make images. How do you prepare for trips to the far north (Remote Alaska) or the south (Antarctica)? What goes thru his mind before, when and after he clicks?  Oliver says: "Capturing a moment of raw nature is both exciting and many times a big struggle with the elements. You put yourself and your equipment at risk, your heart is pounding, you are breathless, but at the end of the day the extraordinary pictures are timeless memories."
"In Pursuit of Excellence" provides the expert photography advice and proven techniques to help you fulfill your aspirations."
Oliver Klink's biography:
Oliver Klink is a professional photographer based in Los Gatos, California. He specializes in nature, wildlife and fine art photography. The underlying inspiration for his photography is his story telling approach. "Through my images, I hope to share the intricacy and interconnectedness of our ecosystems and make the viewer dream."  Oliver's work has received many awards and has been published in National Geographic, Days of Japan, Black &White magazine, Popular Photography magazine, among others. In 2013, his image "The Great Migration" was selected as the Grand Prize winner at the 30th anniversary Spring Show Exhibit at the PhotoCentral Gallery in Hayward, CA. Other awards have included the Mike Ivanitsky award (2009) for photographic excellence, nomination at the prestigious Color Spider Award (2011, 2012, 2013) and the North America Nature Photographer Association top 100 wildlife images (2008, 2009).
Oliver leads workshops around the world to inspire participants to develop a personal vision with their photography. Since 2005, his help and expertise have served many students to take photographs that are more than just mere images, but rather photographs that haunt people and tell stories. Oliver's teaching style is about building confidence to launch creativity.
More information about his images and workshops can be found at www.oliverklinkphotography.com and www.incredibletravelphotos.com.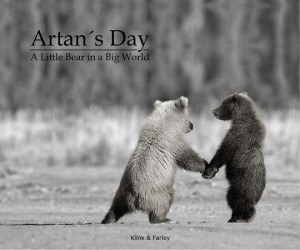 The cover photo from Oliver Klink's book "Artan's Day – A Little Bear in a Big World"
We shall hope to see you at Oliver Klink's presentation: "In Pursuit of Excellence" at the Photochrome Camera Club's Exploring Photography program on Thursday May 2, 2013 at 7:30 pm at the Ebenezer Lutheran Church at 678 Portola Drive near Woodside Avenue in San Francisco.
Bring a Friend