Field Trip to Crissy Field 7/21/12 – 9:00 am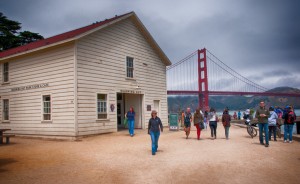 The area is under construction due to the replacement of Doyle Drive so follow the Crissy Field detour signs to Mason Street upon entering the Presidio. If you are coming from Marina Blvd., just continue straight onto Mason Street. Lets park and meet in the free parking lot at 9:00 am in front of Stillwell Hall. Additional parking is behind the Hall under the overpass.
Points of interest: Presidio Pet Cemetery, old brick buildings under overpass, Golden Gate Bridge, The Bay, Wildlife Protection Area, Shoreline, Pier, Fort Point, Warming Hut, Bikers, Joggers, Crissy Field Marsh, etc.
The Warming Hut sales coffee and sandwiches. Outside you can buy a $6.00 Hot Dog at the "Lets be Frank" Hot Dog stand. There are picnic tables outside the Hut as well as a few small tables inside. If there is fog, it usually burns off by 10-11:00 am.
Gary Larsen